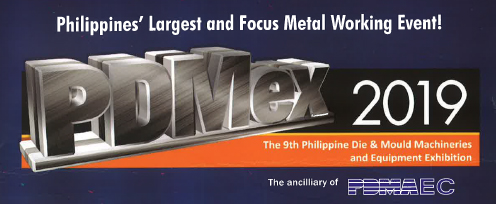 Image Source: Japan External Trade Organization
Last August 28-31, the Philippine Die & Mould Machineries and Equipment Exhibition (PDMEX) was held at the World Trade Center in Pasay. The event was the country's largest and most focused machinery exhibition, which showcased the most exciting advancements in the metalworking industry today.
Many renowned companies and players in the metalworking and production industry were present in the event. This was mainly to impart knowledge on the most unique and cutting edge technology and processes to date as well as showcase their products to the general public. The four-day event was filled with seminars and activities that helped thousands of visitors get up to speed with the latest trends and innovations in the industry. The collective information that was shared was helpful to each exhibitor in a cooperative effort to take the local metalworking and production industry to the next level.
Among the exhibitors was Richfields, one of the leading plastic mold makers and injection molders in the Philippines. While Richfields isn't necessarily a metalworking company, much can be learned from the expertise and experience of the company. This is in terms of dealing with both local and foreign clients as well as supply chain management, proper certification, and recognition in the industry.
Richfields is a Filipino-owned plastic mold maker and an injection molding company based in China that provides manufacturing services to various local and international clientele. Their production process begins with the clients sending in 2D and 3D product designs in order for the molds to be created. Once this has been accomplished, the client can choose between two options: have Richfields manufacture the products or have the molds shipped to their own manufacturing facilities. Along with plastic injection design and molding, Richfields also offers other services such as painting plastic products, printing designs, and assembling plastic parts.
This flexible process allows Richfields to produce a wide variety of high-quality products that are sold internationally. The products presented during PDMEX 2019 include a power inverter used to store and convert solar energy into electricity, dental guards, plastic packaging used to store items such as watches, and water filters. These products are sold in places like the United States, where it is distributed in some of the biggest department stores such as Walgreens.
Richfields is also a company that has received a number of international certifications. These include ISO 9001 Certification, Disney (allowing them to produce Disney-licensed products), IATF 16949 Automobile Industry Certification, and C-TPAT (anti-terrorism) Certification. These are a testament to the quality that Richfields provides, allowing them to create products for their diverse range of clientele.
Richfields' products and services were well received by the event-goers as well as the other exhibitors. The event itself was a big success with the organizers who were happy to make their vision of a shared platform for many organizations come to life. Factor in the good turnout, and expect to see the Philippine Die & Mould Machineries and Equipment Exhibition make a bigger impact in the coming years.