What are the different types of injection molding machines?
2200 TON Toshiba
1380 TON Taiwan Quan Li Fa
1300 TON CLF and TOSHIBA 1300 TON
350 TON Nissei Japan
With Richfields' injection molding, the machine types may vary depending on the size and capacity. These kinds of large equipment are essential in providing prototyping services in China before distributed to the wider global market. Likewise, they can be used in manufacturing a wide array of plastic components with unique features and dimensions.
Richfields Plastics currently has a number of machines that are designed for high-quality injection molding. For large plastic parts, you have the 2,200-ton Toshiba, 1,380-ton Taiwan Quan Li Fa, and the like. Small plastic parts that range from the 500-ton to the 350-ton capacity are also available, depending on your requirements — be it OEM components, aftermarket goods, or custom parts.
All of these machines are maintained daily to make sure that there are no errors during the injection molding processes. Richfields' team of injection molding experts and professionals conduct regular inspections and modifications to make their services more efficient. Continue reading to learn more.
2200 TON Toshiba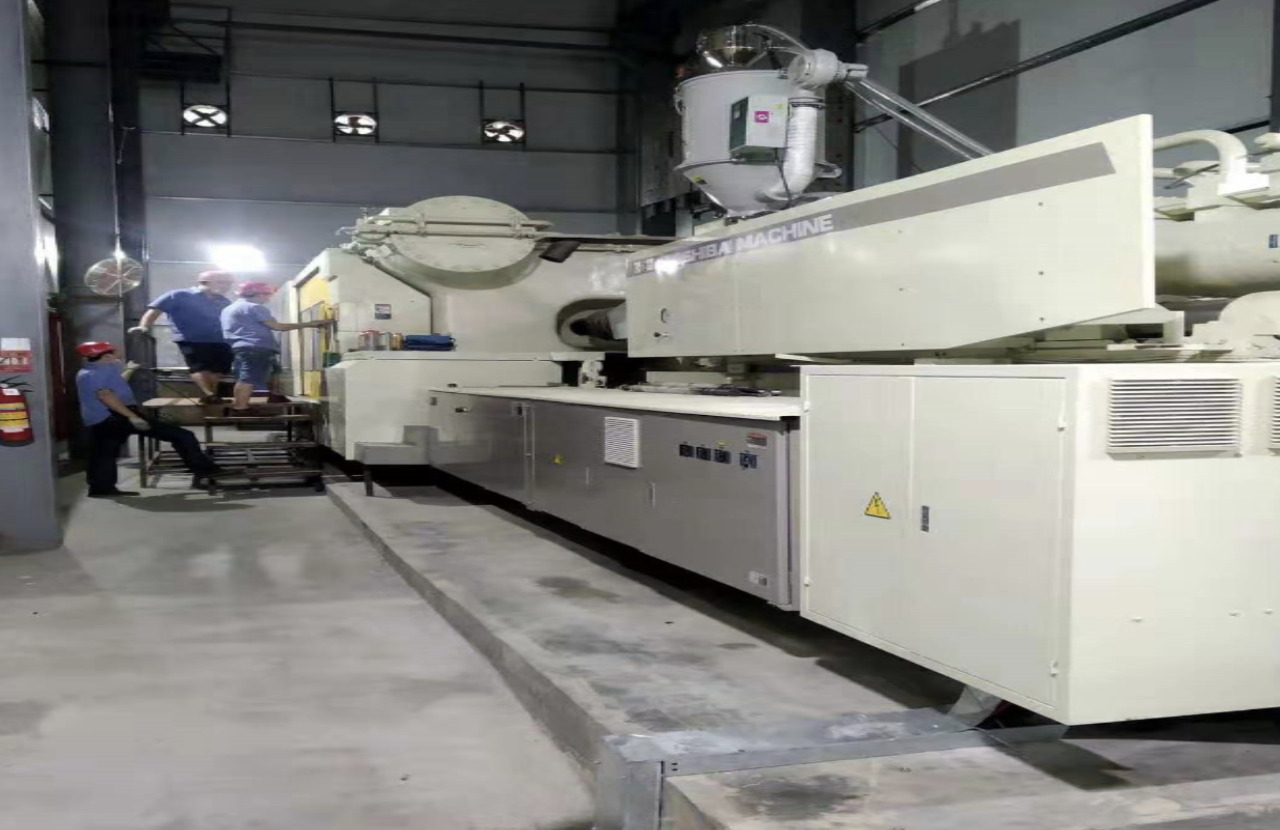 The Toshiba 2200 Ton Injection Molding Machine is one of Richfield's equipment that is ideal for manufacturing large-size plastic molds. As the name suggests, this Toshiba machine is able to accommodate upwards of 2,200 during a single cycle time.
Like many machines of this caliber, the 2200-TON is also suited for a variety of plastic resins and thermoplastics, and thicker mold sizes that range from 900 mm to 1,700 mm. You can have virtually any type of product made with this machine, whether it be parts for photocopying machines, sound systems, HVAC components, and many more.
Aside from the load capacity, this machine is also able to handle a maximum shot size of more than 10,800 grams, making it perfect for high-volume production. The many components in the machine are also secured using a locknuts system to ensure that the clamping phase during injection molding remains consistent. This is also to stabilize the procedure and to minimize the effect of vibrations on the molding process.
1380 TON Taiwan Quan Li Fa
Although the 1380 TON Taiwan Quan Li Fa injection molding machine is significantly smaller compared to the previous machine, this can still be used to accommodate heavier molds. This Quan Li Fa machine is able to produce high-dimensional accuracy molding parts that have a maximum weight of 3 kgs.
For this machine, the platen size is at 1,300 mm x1,300 mm. This is the component that's been specifically designed to hold the mold in place. It also does the job of heating the mold and making sure that the high temperature is evenly distributed across the plastic resin pellets before the cooling phase.
This machine can be used to manufacture all sorts of custom plastic parts of your choice, such as plastic bottles, plastic fenders, automotive grills, and the like.
The food and beverage industry can also benefit from this machine, due to the precise shapes that it can produce for kitchen equipment parts, vending machine housings, and many more.
1300 TON CLF and TOSHIBA 1300 TON

Richfields' 1,300-ton injection molding machines come in two units — one manufactured by CLF and the other by Toshiba. Although the two machines are from different brands, they have similar technical specifications especially regarding the capacity, tie bar spacing, shot size, and the platen size.
For the capacity, both machines are able to exhibit a relatively high clamping pressure of 1,300 as described in the name. The clamping pressure is one of the factors that determine the quality of any injection mold. Low clamping pressure might result in mold deformations, while a good value will lead to more uniform shapes during the molding process. Simply put, all of the resin that's injected into the mold will satisfactorily adhere to its shape, thereby preventing any uneven parts.
Although both of these machines have a much lower clamping pressure rating (tonnage) compared to the Quan Li Fa and Toshiba, it does have a significantly bigger platen size — 1,900 mm x 1,850 mm to be exact. Its bar space is also at 1,310 mm x 1,265 mm. Keep in mind that in choosing the right machine for your plastic molded parts, make sure that the platen size of the machine is around 30% to 40% larger than the size of the mold that you want.
350 TON Nissei Japan
As mentioned before, Richfields Plastics has injection molding machines from the 500 to 350 range. One of these is its 350 TON Nissei Japan that comes in two units. Compared to the previous machines on this list, this machine is intended for the production of small injection molding parts, with a capacity of 1 kg. It also has a platen size dimension of 660 mm x 660 mm.
There are tons of costs associated with injection molding, with the kind of machine used being one of them. So if you're looking to simply have a small plastic part molded, then choosing this small and low-tonnage machine might be a more practical option.
Key Takeaway
Injection molding machine types come in different units depending on the clamping pressure, capacity, platen size, shot size, and other technical factors.
On the guide above, you've learned about which machines are ideal for large size molds — i.e. the 2200 TON Toshiba. You were also introduced to smaller injection molding machines that have a lower capacity — such as the 350 TON Nissei Japan.
Whatever machine you choose, you can guarantee that Richfields Plastics will provide you with exceptional-quality molds in the market. Click here to view our full injection molding equipment list. You may also contact us for more inquiries.